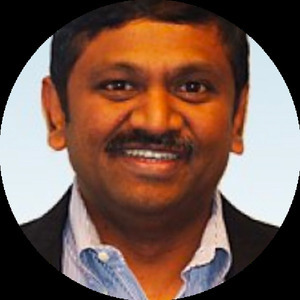 Arun Kumar Bhaskara-Baba
Special guest
Arun Kumar Bhaskara-Baba is Global Head of Manufacturing Systems at Johnson & Johnson. His
team is responsible for technology across 100+ manufacturing sites – across all segments of Johnson
& Johnson (Consumer, Pharmaceuticals, Medical Devices, and Consumer Medical Devices). His
team is also accountable for driving the digitization of manufacturing across J&J and implementing
advanced manufacturing applications to transform the manufacturing foot print of J&J. In addition,
his team is accountable for enabling advanced manufacturing technology including 3-D printing and
Personalized Medicine. Key goals include driving significant improvement in the cycle time, quality
and cost of the manufacturing operations.
Arun's previous role was Global CIO for Janssen Supply Chain – managing end to end IT capabilities.
Arun joined the Johnson & Johnson Family of Companies in January 2007 to establish a global
service capability and build a world class application design and development organization, including
the SAP Competency Center. He integrated global delivery centers across Asia and Latin America,
establishing first global IT delivery centers. He also held the role of Global head of IT Security,
Quality & Compliance, and Risk Management. Before joining J&J, Arun worked in various IT roles
at Dell, Ford Motor Company, and Tata Consulting Services.
Arun has a strong passion for development, inclusion, and diversity. He is the co-chair of the Global
South Asian Professional Network and Association (SAPNA) Board and was the executive sponsor
of the Employee Resource Group chapters. Arun currently mentors several SAPNA team members
and is proud of the diverse talent pool he has been privileged to bring into Johnson & Johnson. He
teaches Digital Supply Chain Engineering course for Masters Students at Rutgers University. Arun
holds an MBA from the University of Michigan, Ann Arbor. He has a Bachelor's degree in
Electronics (Communication Engineering) and a Master's degree in Computer Science from the
Indian Statistical Institute, Calcutta, India. Arun holds CSCP, PMP, Executive Black Belt, Lean / Six
Sigma certifications. Arun lives in Belle Mead, New Jersey, with his physician wife and they are
proud parents of two sons.
Arun Kumar Bhaskara-Baba has been a guest on 1 episode.
June 23rd, 2021 | Season 1 | 45 mins 10 secs

digital factory, manufacturing, supply chains, workforce